The Beatles' Sgt. Pepper album: Interactive version
HOME English Deutsch 日本語 Nederlands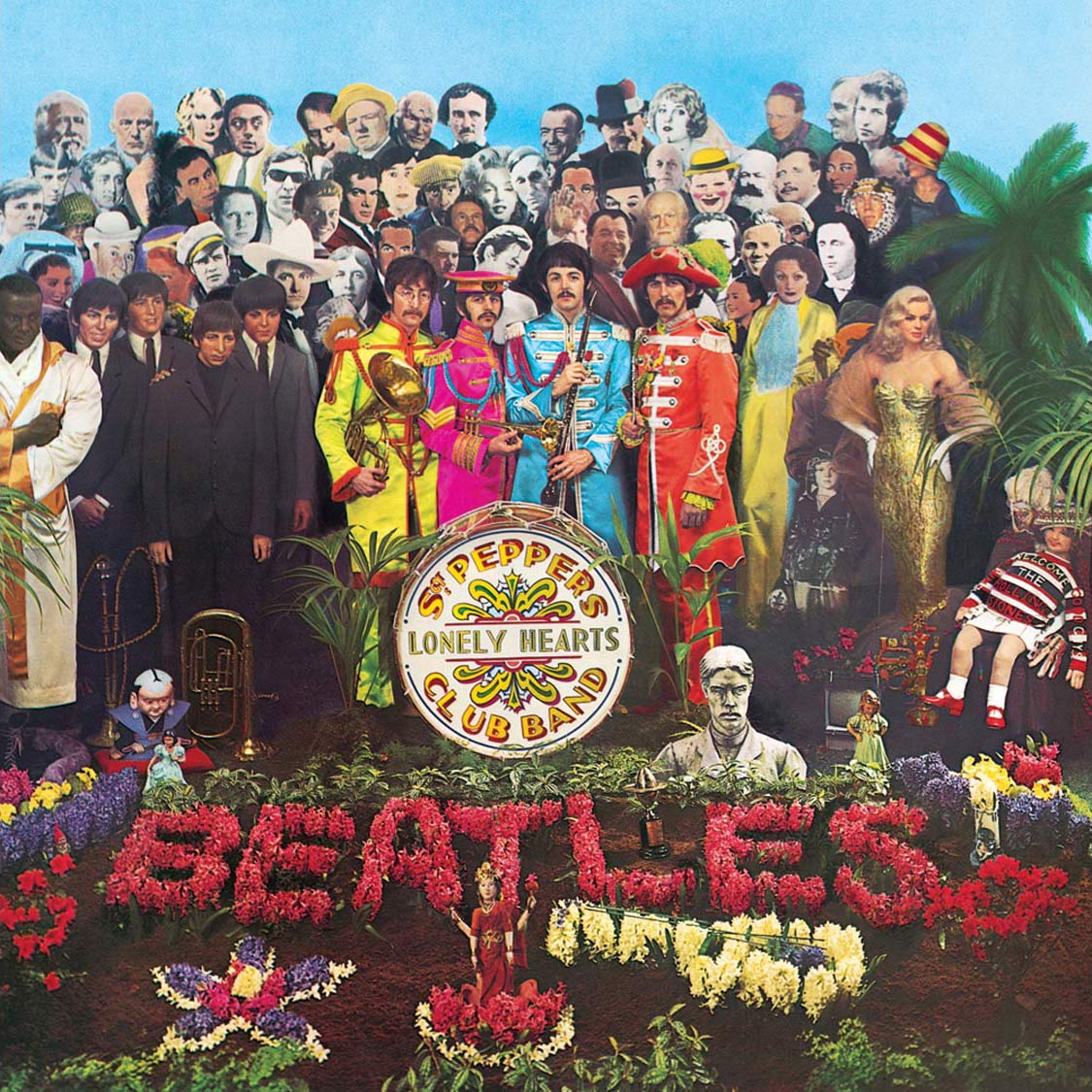 ---->>>>> click anywhere on above image to go to the interactive page
I've created this (first ever) interactive page for the 80th birthday of my friend Jann Haworth. The coincidence that the album was released in the year my wife was born, and that its anniversary corresponds with my year of birth, merited the month of sabbatical effort to build it.
This interactive version (built for a museum application) can quickly be updated, based on your input, and will expand into an AR application.

Sgt. Pepper's Lonely Hearts Club Band is the eighth studio album of The Beatles. Released by EMI for public on June 1st, 1967. A press release was done at Brian Epstein's house on May 19th, but an integral broadcast was already done on May 12th by pirate station Radio London.

Pop artists Peter Blake and Jann Haworth designed the album cover for Sgt. Pepper, considered one of the most famous album covers in history. The cover shot took place over a period of several days up to March 30th, 1967. It was done by Michael Cooper, a British photographer who is known for his photographs of leading rock musicians of the 1960s and early 1970s, most notably the many photos he took of The Rolling Stones in the mid-1960s. See Chris Shaw's site (thanks for your research!) for a description of the photoshoot.
Original Cover
Dutch 'Ibiza hippie collective' The Fool of artists Marijke Koger and Simon Posthuma, already had created covers for several music albums (e.g. for The Hollies, Graham Nash, The Incredible String Band), a mural in Baker Street for the Beatles Apple Boutique (removed after complaints from the neighbours), decorated John Lennon's piano, Brian Epstein's club, and eagerly participated in the popular drugs-scene.
Initially, Paul McCartney and Lennon stopped by their Dutch friends to ask hem to design a new album. They were invited to the studio for (and participated in) the recording session of 'A Day in the Life'. Later they were officially asked by EMI to create the design. They worked on an initial design for the folding inner side for multiple days (and got well paid for it). The design below shows the draft, with spaces left open for the band and album details. EMI did not like the 'hippie' design they presented (to the surprise of McCartney, Lennon, and Starr who were present at the meeting). Apparently, Mayfair Gallery owner and art dealer Robert Fraser ('Groovy Bob') told them "this is not proper art" and advised EMI and the Beatles to look for a "true artist." He proposed his friends Jann Haworth and Peter Blake for the design. The only item of The Fool's design that remained was the inner sleeve.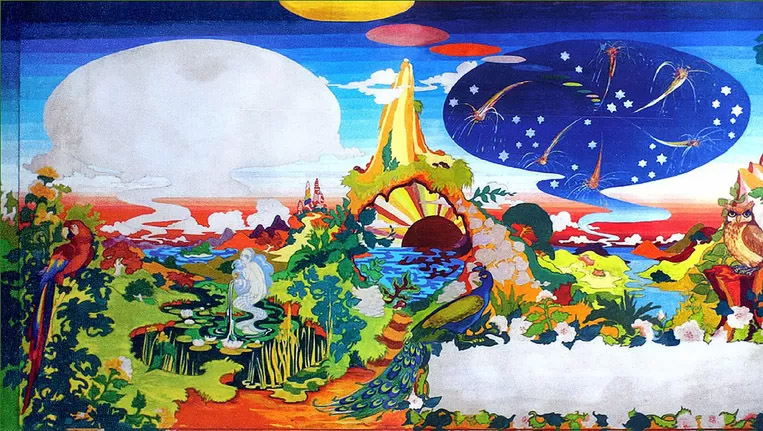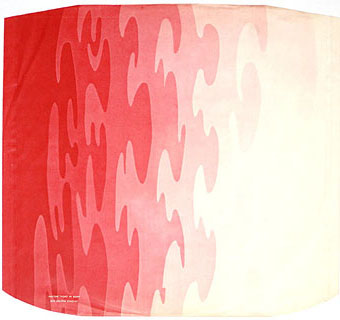 New Cover
The idea for the new version of the Sgt. Pepper album cover may have originated from an old photograph of Paul McCartney's father's jazz band (the Jim Mac Jazz Band), in which Jim McCartney and bandmates are posing around a bass drum with the band's name on it, surrounded by an audience of men and women.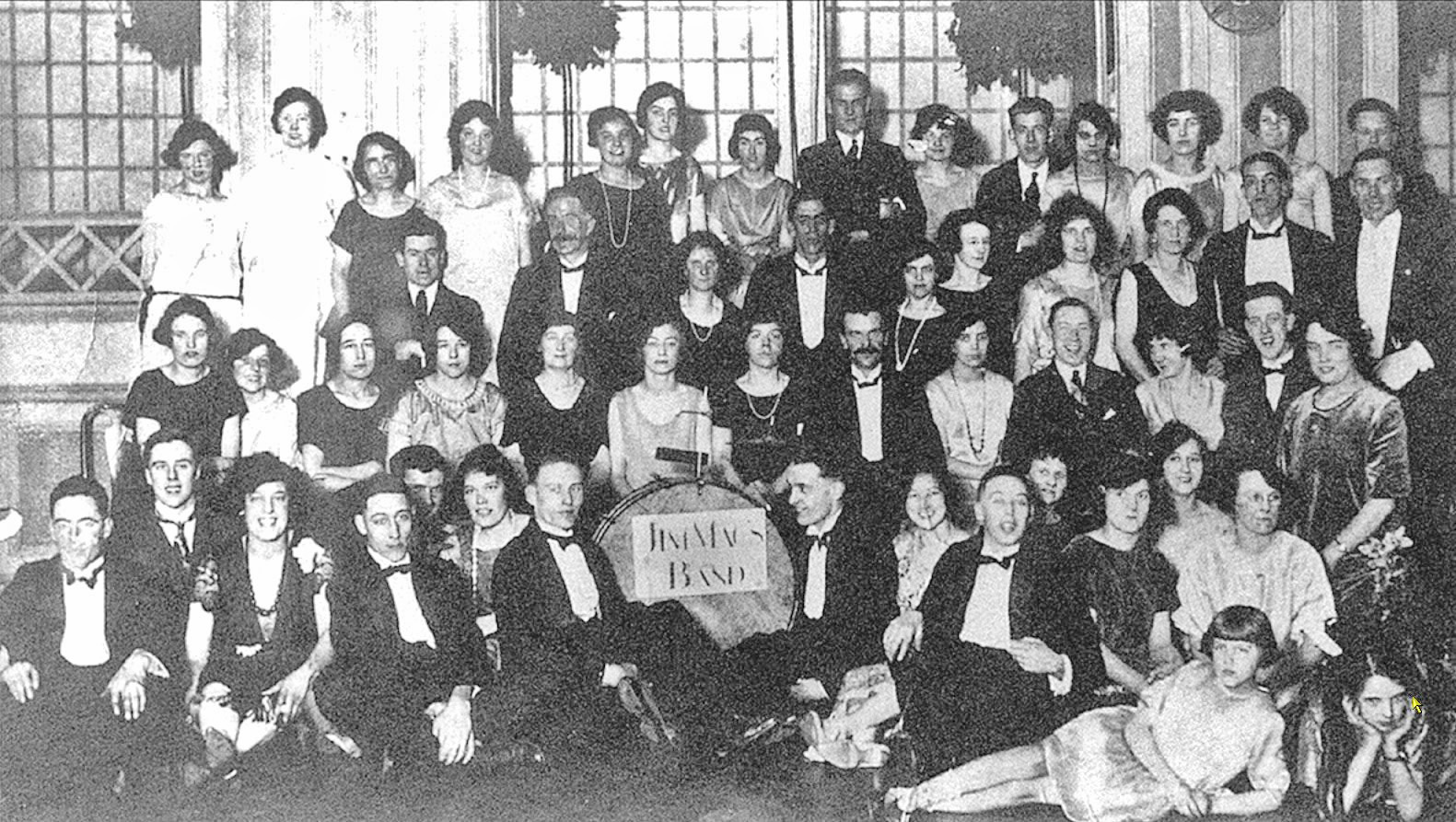 Designer artist Jann Haworth pioneered soft sculpture since the early '60s. Haworth – the daughter of Oscar-winning production designer Ted Haworth - was raised in Hollywood. She moved to London in 1960 to continue her arts study, and quickly became a leading artist in the Pop Art movement. Already in 1963, she had exhibitions at the Institute of Contemporary Arts and, later, at Fraser's gallery. Besides Jann and her husband Peter Blake (they married in '63, divorced in '79), Groovy Bob Fraser had many other well-known artist friends such as Paul McCartney, The Rolling Stones, satirist Terry Southern, Marianne Faithfull, Dennis Hopper, and photographer Michael Cooper. Fraser suggested Cooper's photo studio for the set and photoshoot.
Eventually, Fraser and Cooper were paid £ 1,500 for their efforts. Blake and Haworth each received a cheque of £ 100 in their name, which they deposited into their joint bank account. Fraser signed away the copyright. Corrected for inflation, the £ 200 that Blake and Haworth earned would now (2022) have a value of £ 2,500.
Nobody knew that the album would become iconic, selling 32 million copies. Blake gave the original inner sleeve of the album to his interior designer, who auctioned it in 2012 at Sotheby's for $87,704. Blake did make up for his initial meagre payment by auctioning several cut-outs (he stated he got six, including the wax Sonny Liston) from his collection of curiosities and memorabilia in the past twenty years, generating well over £ 100,000. After their divorce in '79, Haworth moved to Utah. She left all Sgt. Pepper objects that she created in Blake's storage, without compensation.
Peter Blake recalled of the Sgt. Pepper album concept: "I offered the idea that if they had just played a concert in the park, the cover could be a photograph of the group just after the concert with the crowd who had just watched the concert, watching them." He added, "If we did this by using cardboard cut-outs, it could be a magical crowd of whomever they wanted."
Peter and Jann decided to make life-size photographs of this magical crowd, along with wax figures, to form this audience standing around the Beatles and to whom they (or their new personae, The Sgt. Pepper's Lonely Hearts Club Band) would be about to perform (or to have just performed). On the record, we would hear this supposed audience clapping and talking in the background between songs.

Design and Photo Shoot
Jann remembers the few weeks of frantic design ideas with the team, the search for images, creating the cut-outs, the coloring and many other objects to create the background for the Beatles album and setting up the stage in such a way that it would look 'real'.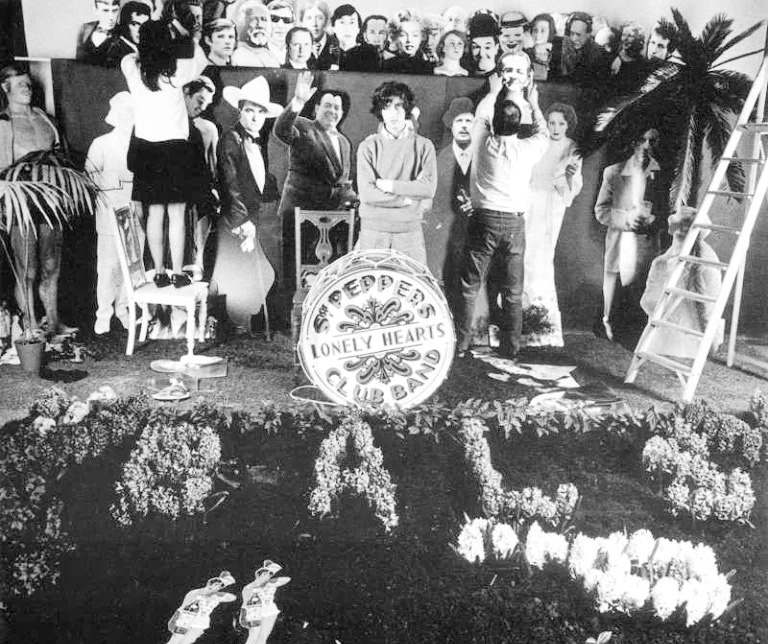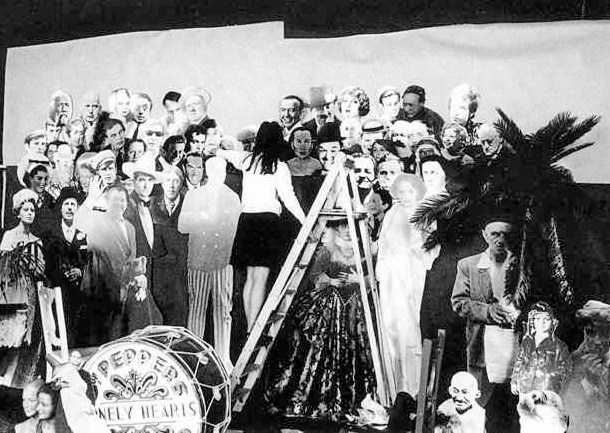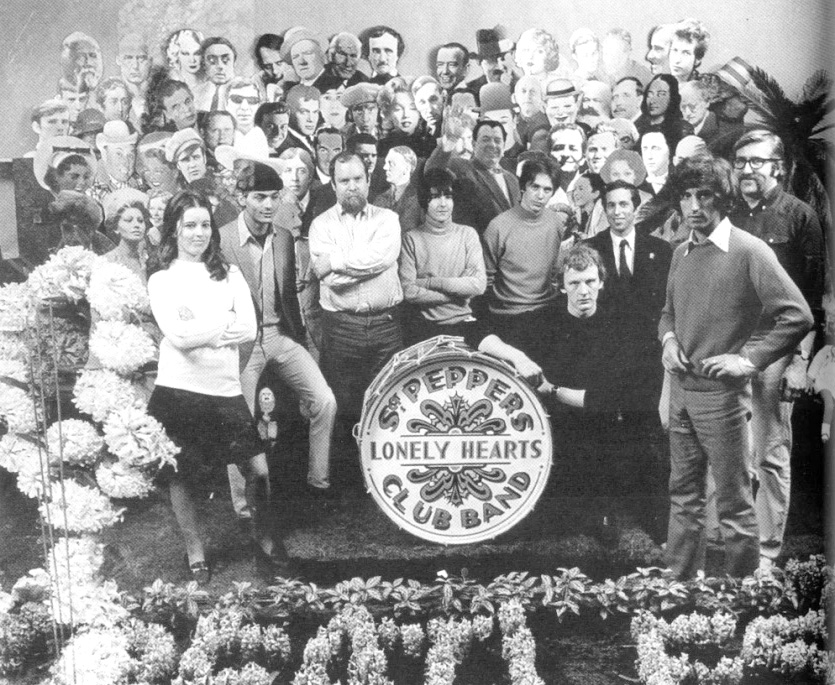 "The crowd really was Peter's idea. It directly came out of Peter's collage work. It's what he did at the time. In his collage lessons, he'd ask his students to paint their heroes. It's a convention, the portrayal of a group of people that way, in rows, as has been done in paintings for hundreds of years. But what it becomes in this case is a falsification. We know immediately the cover is false. That's the interesting, surreal part of it. Peter wanted to do it as a photo collage of images.
My vision was to do it as a set with life size people, as I did with all my artwork. Coming out of Hollywood, it's how I've always worked."
"My father was in town at the time, making Half a Sixpence with Tommy Steele, so I conferred with him. We looked at a set he was doing. He'd got in touch with a friend of mine, fairground artist Joe Ephgrave, to get a merry-go-round for his film set. It was Joe who painted the drum skin on Sgt. Pepper."
"My dad told me that, for a realistic image, I needed to have backlit photographs behind The Beatles suggesting a crowd. The cheat of two-dimensional photographs eliding into a front row of three-dimensional things - that's straight from Hollywood. I saw my dad do it from the age of five. It's fun and funny."
In a 100-page article in the August '91 edition of journal 'Student Meridian', interviewer Sergei Kastalsky wrote down the following amusing story by producer George Martin and George Harrison about the photo shoot [translation by G.N.; info needs verification]: "The first attempt ended in a complete fiasco: Ringo got a fit of laughter and for a long time could not be calmed down, and when he finally did, it turned out that his mustaches were of different lengths. This discovery amused Paul so much that he bumped into Diana Dors and broke her at the waist. The enraged photographer, famous master Michael Cooper, said that never in his life he had met such crazy clients.
The photoshoot had to be postponed until the next day - George spent all night initiating Ringo into the secrets of meditation - and by morning Starr had stopped reacting to reality altogether. Finally, everyone gathered in the studio, the maestro clung to the viewfinder and...
"Ringo broke into an idiotic smile," recalls Harrison. - Now John could not stand it: he raised his trumpet and tried to play the royal anthem. The photographer stopped, shook his long black hair, and turned away from his camera... I thought he was going to kill John." On the third attempt, the shooting was a success - both sides of the cover and the spread were photographed.
Haworth: "Sgt. Pepper is the '60s pop equivalent of what people and artists have been doing for hundreds of years and will continue to do so, because it feels good to be with friends. Commissioned paintings, such as Rembrandt's Night Watch, was the way to do this from the 17th up to the 19th century. The invention of photography allowed many more people to picture themselves with their favorites. The rise of social media caused an explosion not only of selfies but also of the creation of web groups and teams to share interests.
For me as an artist, this comes to life in mural group artworks, preferably life size, with which I depict the people that are important to me or to society. With my designs such as SLC Pepper, Work In Progress, and Utah Woman I want to establish a permanent display with a continuous expansion of the people we care for. At the same time, I embrace the fact that a mural is subject to natural decay, just like our evolving ideas about our heroes and role models. Some will be maintained in our hearts, mind, and in the murals, while other will fade away to be replaced by new ones. The cycle of life."
It took over forty years before Haworth received the credits for her shared efforts with Blake. Both Jann Haworth and Peter Blake have made updated versions of the Sgt. Pepper. Haworth created SLC Pepper in 2004, Blake created his Vintage Blake in 2012. Hundreds of parodies of this iconic album were made. For a list see this Museureka page. See also this short behind-the-scenes video of the photo shoot, with Joseph Lockwood's feedback on the presence of Gandhi.
Information for this artwork was collected from multiple public sources, and interviews and correspondence with artist Jann Haworth.
Don't hesitate to contact me if you have any suggestions or comments. This website does not impact your privacy. It does not make use of cookies or other trackers. It is non-commercial. Images were obtained from public-domain sources. Any copyrights that may exist will remain with the original owners. In case you consider an image to be a violation of ownership rights please provide me with proof of ownership to allow me to validate the claim.
© Gert Nieveld, Amsterdam, 2022
Update: April 11, 2022