The Nachtwacht Project
Update: March 23, 2022
Rembrandt van Rijn: De Nachtwacht / The Night Watch
"The company of Captain Frans Banninck Cocq and Lieutenant Willem van Ruytenburgh is preparing to march"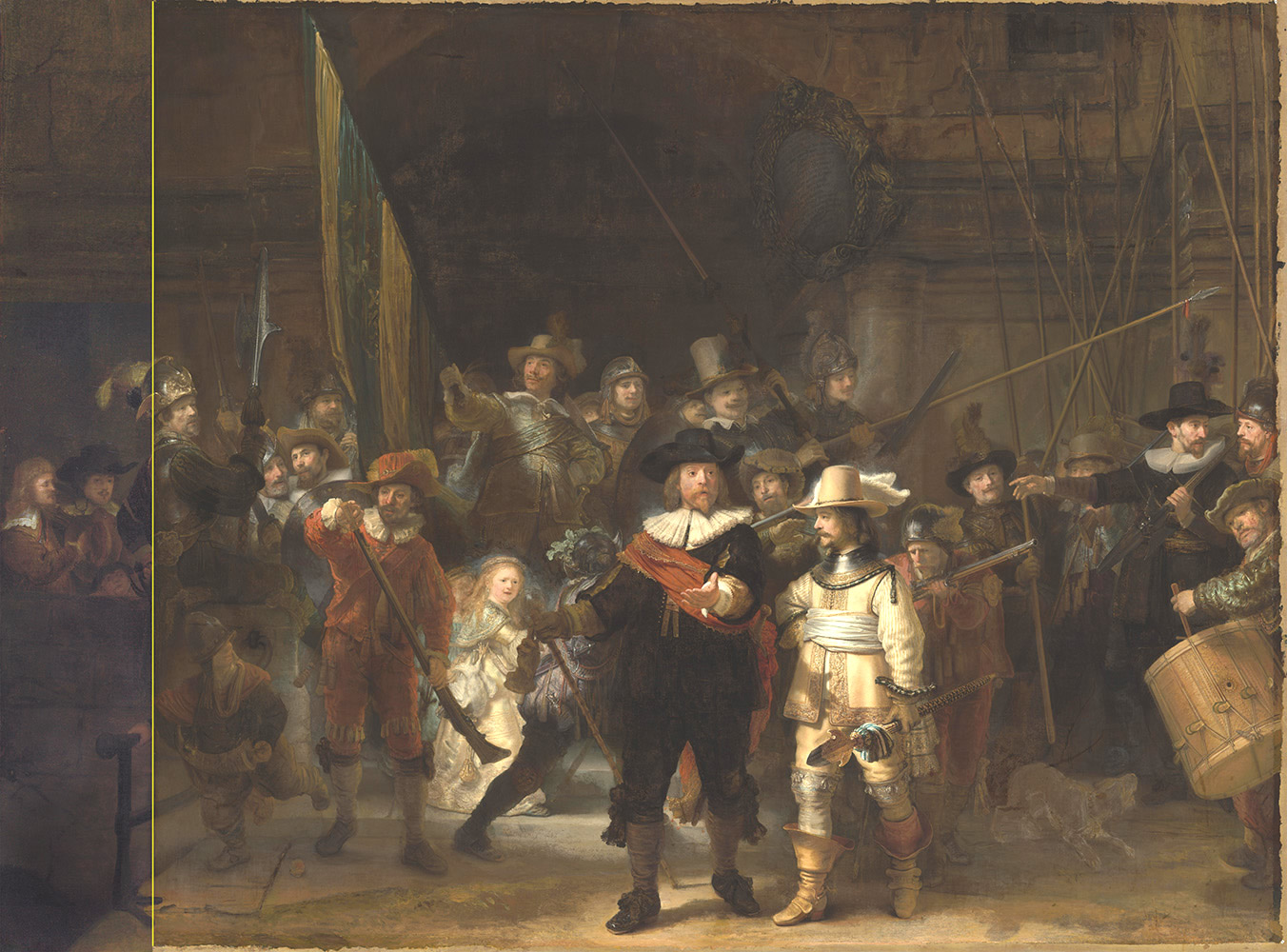 --->>> click anywhere on the painting above to access the interactive page

Historic Social Networks

This one-week project about the Night Watch is an extension of my Biard Research Project to see how easy it is to incorporate the web structures that I created in 2015 for "Une Soiree au Louvre" for other artworks.
Managing our social networks plays a major role in our lives. Sometimes we forget that this didn't start when Mark Zuckerberg built "The Facebook" website for Harvard students in 2003, but that this need is as old as our society. Our connections with close friends, family, and acquaintances are now easily displayed, updated, and enhanced on our smartphones.
Before photography, invented in 1839, the only way to display the importance of your network was to commission a painting. This is why Frans Banninck Cocq and Willem van Ruytenburch's commissioned Rembrandt van Rijn in 1639 to do this for their militia group. This impressive work, on display at the Rijksmuseum in Amsterdam, was completed in 1642.
I have created this display to enable visitors to learn more about the Night Watch and continue via links into other paintings, such as the copy of the Night Watch made around 1649 by Gerrit Lundens (1622 - 1686), it usually is displayed at the National Gallery in London but has been on loan to the Amsterdam Rijksmuseum until 2023.
Since the original Night Watch was trimmed in 1715 to fit between two doors in the Royal palace at Dam square in Amsterdam, three persons on the left side have been missing. Some smaller parts (about 20- 40 cm wide) were also eliminated on the three other sides. Gerrit Lundens copy has become vital to recreate the original Night Watch. The original had far better positioning of the figures and stronger visualization of the action in this stunning painting. I have numbered the characters left-to-right starting at the trimmed left edge of the painting.
My goal for creating this image is to provide museum visitors 'hands-on' information using touch-screen monitors near the painting and provide on-line visitors and schools with more details about its composition.
These displays can be created in a matter of weeks, in multiple languages, and will enable crowd-management in an entertaining way during expositions that draw a large audience. For this purpose I cooperate with a small team with vast experience in:
- fast historic analysis and data gathering;
- textual, editorial, and language support;
- web design and graphics;
- web, database, and graph modeling.
Don't hesitate to contact me if you have any suggestions or comments.
© Gert Nieveld, Amsterdam, February 2022